Home
"You don't need to wait for a sale or a coupon.....the best deal in custom framing is RIGHT HERE!"
When it comes right down to it, not all custom picture framing shops are equal.  At Rimrock Art & Frame, we get it.  You're busy.  You don't have the time or desire to stand in line at a craft store for a phony coupon.  Nor should you have to wander through a furniture store when all you want is your artwork framed.  See, we get it!
What can you expect at Rimrock Art & Frame?  A sincere Montana "welcome" followed by a relaxed and enjoyable time getting to know you and your artwork.  The coffee is always on so pull up a stool at our design counter where the fun begins.  No high pressure sales here.  Oh, and we hope you don't mind if we joke around a little.  We think that picture framing, like life in general, should be fun!


Picture frames, mirrors, custom frames, ready made frames ....we do them all.  From framing a photograph to conservation framing and preservation framing of fine art and memorabilia.  Trust the pros and still get the best deal in custom framing.
If it's art you're here for, we've gotcha covered there too.  We are proud to offer the most complete selection of Carol Hagan prints, as well as Russell Chatham original lithographs.  And being a Montana art gallery, of course we have some dynamite fishing art, fly fishing art and trout art by several local artists.
Locally owned, managed and operated since 1994, Rimrock Art & Frame has served thousands of happy customers with affordable custom framing and the finest in Montana art by Montana artists.  Browse our site and then pop in for a visit.  We're looking forward to meeting you.
Thanks for visiting and have a great day!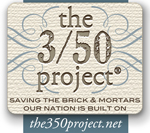 We are firm believers in The 3/50 Project!
What 3 independently owned local businesses would you miss if they suddenly disappeared?  Stop in.  Say "hello".  Take home something that brings a smile. Your purchase is what keeps those local businesses "in business".   For every $100 spent in independently owned local shops, $68 returns to the community through taxes, payroll and other expenditures!  Can't say that for the Big-box stores!  Click on the logo to learn how you can help save the brick-and-mortars our nation is built on.